DEH Capabilities Overview
At DEH, we're not just a stocking distributor, we view ourselves as your partner. As such, we continuously add products, services, and resources with the goal of helping you grow your business. We aim to offer the best products and services to help make this possible. When working with us you will get to experience all of the factors that go into the DEH difference.
Quick Ship on In Stock Products
DEH offers a quick ship program for products we stock in our centrally located warehouse. We stock a variety of pallet racking components, rivet shelving, and pallet rack accessories. Through our program, you can place your order for any of the below products you need and get it delivered within a tight time frame.
Pallet Racking
Welded green uprights with standard base plates and orange beams are in stock. Teardrop style allows interchangeability with other popular brands.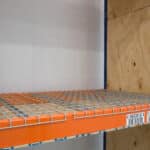 Wire Mesh Decking
Our wire mesh decks have standard channels that rest on the step of the front and back beams. Our stocked wire decks have a powder coat finish, but we are able to supply galvanized decks upon request.
Rivet Shelving
A standard unit consists of posts, horizontal beams, and decking. It is easily assembled and does not require nuts, clips, or bolts.
Post Protectors
Protects pallet racks against forklift abuse. Available in either a blend of a high-density polyethylene outer shell and impact diffusing foam or heavy 7-gauge steel.
Sign Up for the Quick Ship Email Today!
If you are interested in signing up for our monthly quick ship program, you can click the below link to get to fill out the form. After filling out the form you will receive access to the updated list at the beginning of the following month.
Click here to access the Quick Ship sign-up form.
Sourcing Additional Products Across the U.S.
In addition to the quick ship program, we also offer the below products at special dealer pricing.
Engineered Systems
We can provide all types of engineered systems including selective, drive-in, drive-through, push back, pallet flow, carton flow, and cantilever racking.
Mezzanines
Includes freestanding, rack-supported, and shelving-supported mezzanines.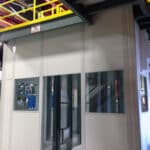 Modular Offices
We provide modular offices with many feature options.
Used Products
We keep a large inventory of used frames, beams, decking and other material handling products in stock.
Bevco Chairs
DEH carries a full line of BEVCO chairs designed for the toughest of work environments.
Wholesale Cost Savings
Our 100,000-sq. ft. warehouse allows us to purchase and stock large inventories of teardrop pallet rack, rivet shelving, and wire decking. This results in cost savings for you.
Comprehensive Material Handling System Services
The longevity of DEH in the industry has allowed us to form partnerships with engineering, installation, and project management companies. As a result, we can work with you to provide these services to your customers if required.
Rack System Design & Engineering
No matter what the needs of your customer's space are, we can create a professionally engineered solution that will help your customer manage their inventory.
Project Management
The experience and skills of our project managers ensure the ultimate success of your project. They'll manage all subcontractors and continuously monitor the progress of the entire project, so it is completed on time and within budgetary guidelines.
Permitting Support
We can help you obtain the necessary permits to ensure the on-time implementation of your customer's rack system. We'll help you complete the paperwork and gather the required documentation.
Installation
We retain quality installers located throughout the country who have experience working in a wide array of environments.
Unparalleled Customer Support
The DEH team has more than 20 years of experience in the material handling field. You can look to us as your trusted resource for all questions pertaining to racking systems and other material handling solutions. We're here to help you provide solutions to your customers.
24/7 Access to Product Info and Quoting
No matter the time or day, our registered customers can access our quote building tool and product info of the items we have available for sale. This tool gives our customers access to our special dealer pricing right at their fingertips. If you are interested in signing up for our quote building tool, you can click the below link to get to fill out the form.
Click here to access the Quote Building Tool registration form.
Experience the DEH Difference Today
DEH is highly knowledgeable and experienced stocking distributor of pallet rack, shelving, wire decking and other warehouse items. As a wholesale pallet racking stocking distributor, we provide dealers and re-sellers with quality products with the goal of helping you stay on schedule and within budget.
DEH has a talented team of in-house sales personnel, all highly experienced in the material handling industry. We'll work with you to make sure that your material handling solution is the best fit for your operation, installed and completed on time and within budget.
We'd appreciate the opportunity to help you further, whether that be more information or a quote. Fill in the contact form on this page or call us at (773) 839-5529 to get in touch with a DEH representative.
Register now to gain access to dealer pricing